The well-equipped 2018 Porsche 911 is a sports car with unforgettable performance. But of course, it's more than just that. With its interior arrangements, tech features, and incredible design, it's a car that deserves more than just a glance from Warrington, Devon, and Philadelphia passers-by.
With this Porsche 911 review from Sloane Automotive Group near Glenside and Malvern, we'll discuss some of the standard features, along with the available upgrades in various trims. It all begins with what's under the hood.
Porsche 911 Performance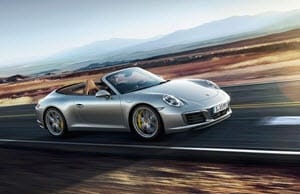 The base trim, the 911 Carrera, features a pretty potent engine in its own right. But beyond that powerful choice, there are a couple of other options which can really kick things up a notch. As for that base engine, it's a 3.0-liter 6-cylinder, twin-turbo one. It puts out 370-horsepower, which can be felt when you're out on the open roads.
The upsized turbochargers in the S models, along with the independent exhaust system, is incredibly impressive. A power output of 420-horsepower is generated with these models, with a maximum torque of 368 lb-ft. Winding roads will feel more exciting, while navigating city streets has never been slicker. A 7-speed manual transmission is standard in most trims, but a 7-speed automatic transmission is available. Both provide smooth shifts and a true-to-life sports car experience.
Interior Comforts: Feeling at Home
It's hard to ignore the premium interior quality of each Porsche 911 model. The design is sporty, with a sport steering wheel reminiscent of motorsport. Customize the color of everything from the seat to the seatbelts, if you're really feeling daring. The full leather interior not only looks great, but it feels great, too, particularly when you're in the soft and supportive seats.
The sports seats are equipped with electric seat height and backrest adjustment. Optional fully electric sports seats include lumbar support and comprehensive memory functions. Heated seats are an available option for all seats inside the 2018 911, for a comfortable environment when the weather outside gets chilly.
The Porsche 911 is Tech-Friendly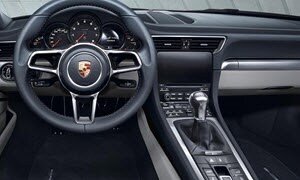 Technology to help you throughout every Porsche 911 drive comes standard. This includes the new Porsche Communication Management, with online navigation module and a 7-inch touchscreen. The instrument cluster features a 4.6-inch color screen, with important data from the onboard computer like trip mileage, fuel consumption, and journey time. It also provides a map with real-time traffic info.
When choosing the Sound Package Plus, you'll have eight speakers and an output of 150 watts, for a premium sound experience. There's an optional Bose® Surround Sound System, developed for the Porsche 911, and tuned to the interior acoustics of these cars. This 12-speaker system is powerful and brings all music to life.
Test Drive the 2018 Porsche 911 Today
If you have a penchant for powerful cars blended with the best technology available on the market, it's best you learn all about the 2018 Porsche 911. You'll find it at Sloane Automotive Group. We're proud to serve drivers in Warrington, Devon, and Philadelphia.
Speak to one of our sales professionals near Glenside and Malvern to learn more about the 911 and what it's like to drive it. Then, take it for a test drive yourself here at our dealership. We'll have the keys waiting.