2011 Audi A3 Introduction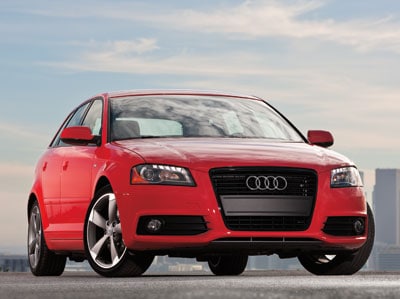 The Audi A3 is a practical, compact five-door hatchback, but it feels up-market, like a scaled-down A4. Like most compact cars, the A3 is fuel-efficient and represents a good value. Yet it's also luxurious, with a premium interior. Underway, the A3 delivers excellent driving dynamics from superbly engineered powertrain, suspension and braking systems.
We like the A3 for its combination of open-road dynamism, long-haul friendliness, and around-town usefulness. The A3 is an example of the sensibilities in design and use of materials that characteristic of Audi.
Two engines are available. The Audi A3 2.0 TFSI is powered by a turbocharged 2.0-liter four-cylinder engine, rated at 200 horsepower and 207 pound-feet of torque, which drives either the front wheels, or has all-wheel-drive with the quattro version. With front-wheel drive the A3 is available with either a 6-speed manual transmission or a 6-speed automatic S tronic dual-clutch transmission with electro-hydraulic control. The all-wheel-drive Audi A3 quattro comes only with the S tronic automatic. With the manual transmission, the gas-powered A3 2.0 TFSI is EPA-rated at 21 mpg City, 30 mpg Highway.
The A3 2.0 TDI clean diesel makes 140 horsepower and 236 pound-feet of torque. It is available only with front-wheel drive and the S tronic automatic transmission. With all that torque it has no problem moving the A3 down the road or up the hills, even with it fully loaded. Perhaps most significantly, the A3 2.0 TDI diesel is EPA-rated at 30 mpg City and a remarkable 42 mpg Highway, and like the VW Jetta and Golf does not require any fuel additive.
Changes for 2011 are minimal and primarily cosmetic. 2011 Audi A3 Premium Plus and Titanium packages get new wheel designs, two blues join the palette, and door handles and the cabin get chrome accents.
We found the A3 models offer good balance and excellent throttle response that make for a convincing sports-sedan experience when the road is right. Inside, the A3 is roomy and versatile, blending pleasing materials with logical controls and highly legible readouts.