2011 Audi A4 Introduction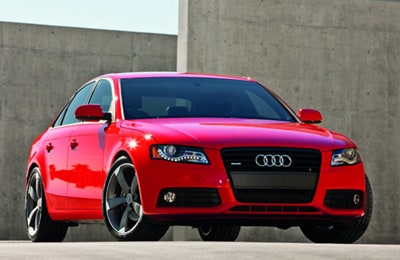 The Audi A4 is a superb road car with all-wheel drive, a compliant, well-tuned suspension and high-quality interior trimmings. A premium compact, the A4 comes equipped with leather, automatic climate control and a range of options associated with larger luxury cars.
Audi A4 is available in four-door sedan and Avant wagon versions. They come with a smooth 2.0-liter four-cylinder engine that delivers solid mid-range power for good drivability around town.
Audi S4 is a high-performance version of the A4 featuring a 333-horspower V6, a specially tuned quattro all-wheel-drive system, a sports suspension, and special trim.
2011 Audi A4 models come with a new 8-speed automatic transmission, replacing last year's 6-speed automatic. The navigation system on 2011 A4s includes HD radio, an upgrade over last year. Audi side assist is available. The beige birch wood trim has been replaced by Nutmeg Laurel for some cabin colors on 2011 models. Also new for 2011 is a Titanium Sport package with black trim, 19-inch wheels with performance tires, sport seats, and a sports suspension. Audi completely redesigned the A4 for 2009, and it is as closely related to the A5 as it is to the pre-2009 A4 models.
2011 Audi A4 models come in Premium, Premium Plus, and Prestige trim, but all share the same 2.0-liter turbocharged four-cylinder engine. Sedans are available with front-wheel drive and continuously variable transmission (CVT) or all-wheel drive and either a 6-speed manual or 8-speed Tiptronic automatic.
The Audi A4 Avant wagon comes exclusively with the automatic and quattro all-wheel drive, and so it starts at a somewhat higher price.
We've found the A4 models a delight to drive. They are compliant enough to soak up bumps like a larger car but firm enough to feel solid and stable to its electronically limited top speed of 130 mph.
Comparing two-wheel-drive models, the front-wheel-drive A4 is not as precise as a rear-wheel-drive BMW 3 Series. But Audi's quattro is among the best all-wheel-drive systems in the world, and an Audi A4 quattro more than holds its own against the other all-wheel-drive cars in its class, and it's more adept in the rain or snow than other sports sedans. Audi A4 quattro competes with the BMW 328iX, Mercedes-Benz C300 4Matic, and Lexus IS250 AWD. The A4 generally offers better fuel economy and more passenger room than those models.