2011 Audi A8 Introduction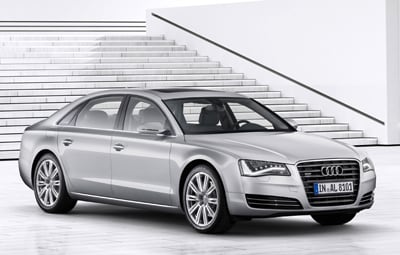 The all-new 2011 Audi A8 is an impressive combination of high performance and high technology. High performance in the form of a luxury sedan powered by a 372-horsepower V8 that's capable of hitting 60 miles per hour from a dead stop in just 5.5 seconds or comfortably cruising for hours on end at speeds well in excess of 100 mph. High technology in the forms of onboard navigation and sound systems managed either by voice commands or by a laptop computer-like touch pad embedded in the center console next to a shift lever modeled after the throttle control for high-end yachts. All for a starting price below $79,000.
A new, limousine-like A8L is available as well, featuring an extra-roomy back seat that can be decked out with reclining seats, a powered footrest, and a built-in refrigerator. The basics, in other words.
A true luxury car, the 2011 A8 comes standard with real leather trim and upholstery, all the requisite power-assisted features, Bose surround sound and a voice-recognition navigation system. Standard running gear comprises the aforementioned V8, a slick 8-speed automatic with available column-mounted paddle shifters, Audi's trademark quattro all-wheel drive and low-profile tires on alloy wheels.
Among the more noteworthy options available either in packages or individually are a Bang & Olufsen surround system with 19 speakers and a 1400-watt amplifier, ventilated and massaging seats, rearview camera, sports suspension, heated steering wheel and, for the A8L, a rear seat entertainment center with a pair of 10-inch LCD screens and individual audio controls.
Looks-wise, the new A8 carries on with Audi's easily recognized trapezoidal grille and LED taillights. New for 2011 (and what Audi claims is a first for passenger cars) is the application of that LED technology to the A8's headlamps. Available only as a stand-alone option, these lamp assemblies use LEDs and only LEDs for all lighting functions, as in, high beam, low beam, turn indicators and side marker and running lights. The carefully arrayed LEDs produce an even, wide pattern of very white light with no hot spots.
Audi didn't neglect the driving experience, as the new 2011 A8 is both a superbly capable luxury cruiser, as would be expected given the market and the price point, and, when properly optioned, a refreshingly fun to drive sports sedan.
The quattro system effectively and invisibly neutralizes any tendency on the car's part to understeer (where it wants to go straight when the driver wants it to turn) or to oversteer (when it tends to turn more sharply than the driver wants), making the car quicker to respond to changes in direction while remaining drama free. Likewise, directional stability on long straight stretches of road inspires confidence.
Audi's MMI multi-media interface employs a touchpad embedded in the center console to control the navigation and sound systems. The pad is multi-talented, offering functions ranging from back lighted number displays for audio presets or owner-programmed functions to scrolling through displayed menus to handwriting recognition (printed block letters and numbers) for keying in navigational requests, like addresses or city names.
While some of the electronics gee-whizardry may be a bit overdone (really, a touch pad?) the new 2011 A8 is an impressive achievement.