2011 Audi R8 Introduction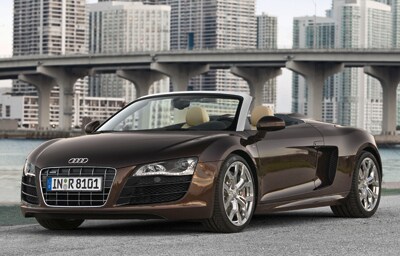 A new Audi R8 Spyder joins the Audi R8 coupe for 2011. Hand-built in Neckarsulm, Germany, the R8 is Audi's flagship supercar, named after the race cars that dominated endurance racing from 2000-2005. After driving the R8 Spyder and the R8 coupe, we think they're every bit as good to drive as to look at.
The R8 offers a high-revving 430-hp V8 or a 525-hp V10. The engine is mounted amidships and can be seen on display beneath a clear engine cover on the coupe or found nestled under the Spyder's stowed soft top. The R8 comes with quattro all-wheel drive, massive multi-piston brakes, aluminum suspension components, and a nearly flat floor to help keep it on the ground at speed.
Inside is a finished cabin with controls very much like any Audi. The R8 is stylish but not gaudy, luxurious without forsaking efficiency, roomy enough to avoid feet squeezed off to one side or your skull stuck in the headliner. Seats are contoured to fit a variety of sizes without reshaping them, and you can hold a conversation without an intercom. As one indicator of how far Audi's gone to make the R8 useable as a daily driver, consider the Bluetooth microphones in the driver's seatbelt on the Spyder.
Audi was able to exploit some engineering development from sister-company Lamborghini in the form of the Gallardo V10 engine, transmissions and chassis, but any notion of the two being the same car wearing different badges should be banished. If the Lamborghini, or any other angry Italian exotic is Lucifer in outlandish Milan-runway garb, the R8 is still Lucifer but one that's been to finishing school and toting a classic Navy blazer.
Exotics and high-performance sports cars vary greatly in style and concept compared to more plebian cars so there is no set class the Audi R8 competes in. Those cars potential R8 buyers might also be interested in, to what degree determined by their location on the performance-style continua, include the Aston Martin DB9 and Vantage V12, Chevrolet Corvette ZR-1, Ferrari 458 Italia, Lamborghini Gallardo, Mercedes-Benz SLS AMG, Porsche 911, and Nissan GT-R.
Coming soon is the Audi R8 GT, which will go on sale in the U.S. as a 2012 model. The GT is a bit of a misnomer given it's the sportiest R8 and the least useful for grand touring purposes. The R8 GT will be right at home on race track, however, as it is tuned to play with Porsche GT3 and Ferrari Challenge cars. The R8 GT features a higher-revving V10 engine near 560 horsepower. Lightened by 220 pounds, the R8 GT can accelerate from 0-62 mph in 3.6 seconds and can top 198 mph, according to Audi. It's expected to come with ceramic brakes, lighter glass and polycarbonates, fixed rear wing, and a much lighter battery. Expect it be just slightly faster than an R8 5.2 FSI but notably quicker around a road racing circuit. Only 333 will be built. We anticipate a price around $190,000.