2011 BMW 5 Series Driving Impressions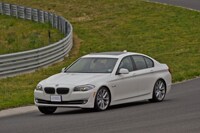 We drove both the 535i and 550i on the racetrack and were stupefied by how extremely competent and balanced this midsize performance sedan really is. The chassis of both models had exceptional poise and pace.
The 550i's front/rear weight balance was slightly more nose heavy, at 52.4/47.6 percent, than the 335i's 50.9/49.1, but it would take Mario Andretti to notice the difference, which he no doubt would. For the rest of us, merely bringing our game up sufficiently to fully exploit the real potential of the two different 5s was an all-day exercise.
So what does racetrack performance have to do with everyday driving in these 5s? Absolutely everything. Virtually any emergency maneuver in normal traffic demands near maximal use of a car's balance and grip. On the racetrack, a car's balance, grip and maximum performance and being assessed constantly. We found the two 5s to be extremely controllable at massive levels of acceleration, stopping and cornering. Compared with their competition, the BMWs should provide excellent performance in accident avoidance maneuvers.
One of the singular components of the new 5 is a superb new eight-speed automatic transmission, up from six speeds last year. This eight-speed, combined with newly intense weight-saving provisions with aluminum doors, hood, front side panels and suspension components, produce good fuel mileage for such a strong performer, in part because gears seven and eight are both overdrive.
Fuel economy are an EPA-estimated 20 City/29 Highway for the 535i and 17/25 mpg for the 550i. Not bad for a racing sedan. The 535i and 550i, after all, achieve 60 miles per hour in 5.7 seconds and 5.0 seconds, respectively.
Much as we admired the new eight-speed gearbox's quick shifts and energy efficiency, the shifter had a bit of the first-generation iDrive about it. It has a P button on top for Park and an unlock button on the left side. To get out of Park, you depress the unlock button and move the shifter forward or backward for Reverse or Drive. Sounds simple enough. You can only go from Drive to Reverse, and vice versa, by first pressing the unlock button. If you move the shifter left, you get manual selection of the eight gears. To return to Park, you must place the lever between D and R, in neutral, and press Park on the top of the lever. It takes a bit of self-training, and a goodly number of mistakes, to master the three simple goals of D, R and P. Like some other German carmakers, BMW thinks it's important to do things their way, even when there is absolutely nothing about their way that is superior to the utterly conventional PRNDL auto-shifter. On the plus side, the manually selected eight-speed did its very best to give us the shift we wanted every time.
The new 5's steering is electronic, variable ratio and feels seamless and precise. And breaking with longtime BMW practice, the new front suspension eschews struts in favor of a proper multi-link system.
To heighten controllability and give the driver an improved platform, available dynamic damping control constantly adjusts shock rates to match the current road surface. The system is so fast that when a front wheel senses a pothole a highway speed, the rear shock can adjust before the pothole arrives. In addition, active roll stabilization curtails body roll in hard cornering, giving the driver a heightened sense of command. As we found on the racetrack, these advanced electronics work wonderfully well.
The new BMW brake system is combined with the other stability control systems, pre-setting the brakes in heavy braking, drying the brakes in wet driving, and compensating for brake fade in vigorous driving. And the brakes have a regenerative-energy feature, not unlike in a pure hybrid, that captures electric energy and recharges the battery during slowing. This reduces the net amount of time the alternator must regenerate charge, cutting engine drag and improving fuel efficiency. You can actually feel the regenerative feature engaging during gradual braking. Nice.