2011 BMW 7 Series Driving Impressions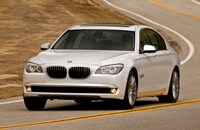 From a dynamic standpoint, there's little to complain about when it comes to driving the BMW 7 Series. About 90 percent of the time, any 2011 7 Series model is a truly satisfying machine to operate: both amazingly comfortable and quiet, and impressively quick and agile for a sedan of its size and weight.
That last 10 percent is a gray area and in that zone the driving can get a little annoying. Perhaps BMW, with the 7 Series, suffers from a problem of ambition. It's as if the engineers and designers have attempted to raise the bar in virtually every respect, and in doing so have made simple things, like the gimmicky gear selector and even the electronic turn signals, way more cumbersome or complicated than they need to be.
The new inline six-cylinder engine is a godsend. It brings the starting price down almost $12,000 and is plenty powerful. The new 740i and 740Li use the N54 version of BMW's 3.0-liter inline-6. This twin-turbocharged engine produces 315 horsepower and 330 pound-feet of torque. It vaults the 740i from 0 to 60 mph in just 5.8 seconds while delivering fuel economy of 17/25 mpg City/Highway, according to the EPA.
We drove the BMW 740i and found that it feels like a V8, and a good one at that. Despite the turbochargers, there is no appreciable turbo lag. Highway passing response is immediate and plentiful, and torque off the line is more than willing. With such an excellent base engine, the larger engine is harder to justify.
The V8 engine in the 750i and 750Li models is brilliant, even incredible. It's all turbocharged horsepower, torque and smoothness. We can't say enough good things about the 4.4-liter V8. Not just the 400 horsepower, but the 450 pound-feet of torque at a very low 1800 rpm. It is flawless. BMW claims that the 750i will shoot from zero to 60 mph in 5.2 seconds, on par with sports cars like the standard Porsche 911, and we don't doubt it for a second. Fuel economy is EPA-rated at 15/22 mpg or 14/20 mpg with all-wheel drive.
The V12-powered 760Li raises the acceleration bar even further. It's powered by a 6.0-liter turbocharged V12 that's turbine smooth, and it bumps output to 535 horsepower and 550 pound-feet of torque at just 1500 rpm. BMW reports a zero-60 mph time of 4.5 seconds. It feels like a jet engine pulling you forward with awesome power. Fuel economy is a thirsty 14/20 mpg.
The 7 Series suspension is nearly as flawless as its engines, whether cruising in a straight line on a rough road, or tossing the big Beemer through curves. The 7 has the first double-wishbone front suspension ever in a BMW passenger car, believe it or not, and the package delivers what might be the best blend of ride comfort and handling response available in a large luxury sedan.
The M Sport Package (optional) offers four suspension modes: Comfort, Normal, Sport and Sport Plus. The only problem is all those decisions. Using the Driving Dynamics Control selector located near the iDrive controller and E-shift lever changes the performance characteristics of the car in the areas of shock absorber firmness, throttle response, transmission shift characteristics, power steering assist level, and Dynamic Stability control points (how much the electronic stability control will allow the car to slide before it engages). The M Sport Package also adds 19-inch alloy wheels to the 740i, 750i and 750Li, with extra-sticky performance tires.
The 750i xDrive and 750Li xDrive are the first 7 Series cars with all-wheel drive. While the AWD system is similar to that used in the BMW X5 SUV, on the 7 Series it's tuned more to enhance performance than to optimize traction on low-friction surfaces (though it can do that, too). The 7 Series xDrive more thoroughly integrates all-wheel-drive management with other electronic systems, like stability control and the 7's Active Roll Stabilization anti-sway bars.
Like other all-wheel-drive BMWs, the 7's system starts at a 40 percent front/60 percent rear default power split. But when the driver applies power more aggressively, especially through bends, the xDrive 7 adjusts torque distribution to maintain the sporty handling dynamics of rear-wheel drive. Through a hard bend, its control system seeks a steady power split of 20/80 to optimize handling.
On dry roads, regardless of drive type, the 7 Series is remarkably balanced for a car of its heft. Rear- or all-wheel drive, it's almost a toss up. With xDrive, the steering feels heavier than that in rear-wheel-drive models with BMW's Integral Active (front and rear) Steering system, and we like the heavier feel. But once the driver gets used to its lighter steering touch, the rear-drive 7 Series is livelier. It almost feels like a smaller car. The rear steering turns the rear wheels with the fronts in sharp bends and in the opposite direction of the fronts at highway speeds to improve stability.
Distinctions are easier to find on a closed course, or in sloppy road conditions. Even with the anti-skid electronics switched off, the 750i xDrive does a lot more of the car-control work for the driver than the rear-drive 750i, balancing itself more readily with less need to be really delicate or active with the gas pedal. The rear-drive 7 Series requires a lot more work, and it asks more of its driver. While that may be exactly what enthusiast drivers want for track day, it's not the preferred set-up in a blizzard. Not many 7 Series owners take their car to track day, anyway.
The gray area of 7 Series satisfaction and performance sits largely in the transmission. The 6-speed automatic seems over-engineered, or at least over-programmed. It insists on doing too many things for the driver, and that's in Normal mode. We're not talking about our usual frequent complaint, that the manual mode isn't very manual; we're talking about a relentless number of automatic downshifts.
Basically, the transmission won't let the car glide. Around town, it almost feels like the emergency brake is on. Back off the throttle, and some program says: The driver wants to slow down. Let's help him! You're going 20 mph and ease off the gas for a red light, intending to coast there, and it downshifts so eagerly that you have to get back on the gas to get to the intersection. It's like the 7 Series is a pickup truck with its transmission in perpetual tow/haul mode. That's great on a race track, but a bit too tense for everyday loafing around.
We had to accelerate to go down our steep hill, because the transmission held the car back so much. Going up a less-steep hill, one-half mile at 25 mph, it downshifted three times and up-shifted twice, all in an effort to keep the car in the optimum gear. It's like the transmission is compelled to use all six of its gears as often as possible. With all that engine torque, it makes no sense. There's plenty of torque in these easy situations to motor along in a lower gear. What's more, the kick-down shifts are often not smooth. Lurch is the word that popped up on our tape recorder, three times.
Out on the highway, this annoyance goes away. It's only poking around town that the 7 Series can be unwilling to glide smoothly. It seemed better with Driving Dynamics Control in Comfort mode, so we suggest staying there, and avoiding Normal altogether. Normal seems like an inappropriate word to apply to this very special car anyhow.
All 7 Series models except the 740i and 740Li are saddled with the federal Gas Guzzler Tax, ranging from $1,000 to $2,100 on top of the purchase price, but we averaged at least 19 mpg with a mix of city and highway driving during a couple of test drives in the 750Li. That, in our view, is acceptable for a car of the 7's size and performance. BMW is nonetheless aware of perceptions about efficiency, and to that end it has added Brake Energy Regeneration to all 7 Series models.
Brake Energy Regeneration captures some of the energy lost as a car slows to a halt, much as the typical hybrid vehicle does. In the case of the 7 Series, that energy is used to turn the alternator, which charges the battery and supplies electrical power. In most gasoline engine cars, the alternator operates when the car is under power, using energy that could otherwise be used to move the car along to charge the battery. In the 7 Series, the alternator only turns when the car is slowing and the engine is essentially idling. When the 7 is accelerating or cruising, the alternator freewheels, so it draws no power from the engine, thus saving fuel over a traditional alternator.
We drove an Alpina B7 and came away thinking the Alpina is the closest we should expect to come to an M7. We don't expect to see BMW build an M7 because its size and weight would prevent it from achieving the sporty character BMW expects in an M model. Having the Alpina B7 means they don't have to play that card.
The Alpina was designed to combine performance with true luxury. It uses a tuned version of the twin-turbocharged 4.4-liter V8 that makes 500 horsepower and 516 pound-feet of torque. BMW says the Alpina is capable of reaching 60 mph in just 4.5 seconds, which makes it as fast as the 760i. Despite the performance tuning, the Alpina delivers its massive power smoothly and without a lot of ruckus.
The Alpina B7 is also lowered front and rear, rides on 21-inch wheels, and features BMW's Dynamic Damping Control and Active Roll Stabilization systems. The suspension is tuned by Alpina to balance ride and handling, and it does so impressively. We found the ride quality of the Alpina B7 firm but surprisingly forgiving, considering its shorter springs and larger wheels. Handling is sharper than that of the other 7 Series models. Drivers can choose among Comfort, Normal and Sport modes to tailor dynamics to the situation.
We have not yet driven an ActiveHybrid model.