2011 BMW X3 Introduction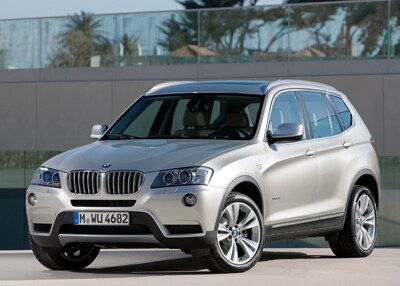 The BMW X3 is all-new for 2011. BMW's first X3 was a successful model for the company, selling 150,000 copies in the USA and more than 600,000 units worldwide. Now, with its all-new second version of the X3, built in a new assembly hall at BMW's Spartanburg, South Carolina, plant, BMW has taken pains to address the aspects of the first-generation model most commonly criticized: rear-seat space and ride quality.
The all-new 2011 BMW X3 boasts significantly better rear leg- and elbow room, and its cargo space is now claimed to be the class leader before the rear seatbacks are folded down, at 27.6 cubic feet. Quoted dimensions for rear legroom indicate an increase of a full inch (to 36.8 inches), while headroom is up two inches over that of the first-generation X3.
The 2011 X3 also features completely redeveloped suspension technology, with a new double-joint spring-strut mechanism at the front and a multi-link system at the rear.
The 2011 BMW X3 comes with a choice of engines, a 3.0-liter inline-6 and a turbocharged version of the same engine. They get essentially the same fuel economy, but the turbocharged engine has more power. Otherwise the two models, xDrive28i and xDrive35i are nearly identical, though the turbocharged model comes with slightly larger wheels.
Our brief test drive in a 2011 BMW X3 xDrive35i suggested that the X3 now demonstrates some of the best poise and isolation we've ever experienced in an SUV on gravel roads.
Combined with a tasteful exterior redesign that holds onto BMW's usual design cues, but makes the previous version look suddenly dowdy and dated, the new X3 has the latest in safety and convenience systems to coddle its owners. Operating efficiency, too, has been given a boost by the fitting of an 8-speed automatic transmission.
BMW's xDrive all-wheel-drive system, standard on all models, retains as much of a rear-drive feel as it can muster, using a multi-plate clutch to vary rear-to-front torque split from fully 100 percent committed to the rear to 40 percent sent forward to assist with traction.
An optional electronic damping control system is available to vary shock response according to conditions, with a driver-selectable three-position switch to focus its operation to the driver's intended activity. This so-called Performance Control switch also affects the level of steering assist, and the xDrive all-wheel drive system by selecting a 20/80 front-to-rear torque-split in steady state driving and also providing some so-called torque-vectoring influence in corners by braking an inside wheel. These new technologies may prove decisive to buyers searching for the latest in safety and dynamic systems.