2011 Honda Accord Introduction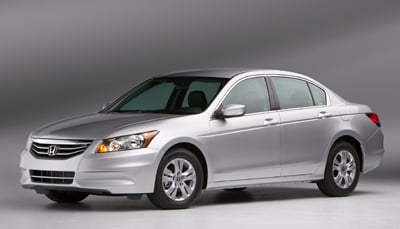 By model range, powertrain choices and overall efficiency, the Honda Accord line-up surpasses everything in its class. Measured by holistic performance or overall refinement, the Accord is difficult to beat. The Accord comes in sedan, coupe, and now Crosstour body styles.
The Honda Accord plays in one of the auto business's most competitive categories, full of cars created to appeal to the largest number of potential buyers. In this make-everyone-happy world, few do it better than Accord. All Accords are roomy, comfortable and very easy to live with, largely free of niggling annoyances that can make otherwise good cars less appealing. All have at least a hint of sporty panache.
The 2011 Accord line-up offers some significant changes. The mild facelift has been applied to all models for 2011, while some new features and efficiencies increase fuel mileage ratings. A new value-priced 2011 Accord SE model features heated leather seating in otherwise base trim. But the biggest news is the new Crosstour.
The new 2011 Honda Accord Crosstour is a crossover wagon launched late in 2010 based on the Accord but with expanded cargo capacity. The Crosstour seats five, but is intended to be more versatile than the Accord sedan. Offered only in the highest trim levels, the Accord Crosstour competes with the Toyota Venza, which, is similarly based on the Camry. Unlike other Accord models, the Crosstour is available with all-wheel drive.
The 2011 Honda Accord is available with a choice of four-cylinder and V6 engines, and manual or automatic transmissions. The Accord sedan and coupe were completely redesigned for 2008, when they grew in exterior dimensions and improved occupant safety.
The four-door Accord sedan competes with the Toyota Camry, Nissan Altima, Ford Fusion, Hyundai Sonata, Mazda 6, and Chevrolet Malibu. It's roomier inside than all of them and more polished than most, with an emphasis on power, fuel and space efficiency.
The stylish two-door Accord coupe offers a 6-speed manual with the V6, for a rare combination in mid-size cars. It comes with a sporty suspension package and low-profile tires on 18-inch wheels, and goes head to head with the Nissan Altima coupe.
With effectively five trim levels, the Accord can fit a wide range of budgets. There's a no-frills sedan with plastic wheel covers, essential features and a solid stereo, and high-trim models with sumptuous leather, mega-watt sound systems, active noise cancellation and navigation. All variants deliver high engineering standards, excellent finish, good build quality and all the important safety equipment.
Some of the Accord's competitors have been redesigned more recently. Others can be more fun to drive. Yet there may be none that match Accord's overall combination of polish, refinement, efficiency and choice. For that reason, the Honda Accord remains a benchmark among mainstream, midsize automobiles.