2011 Porsche Boxster Introduction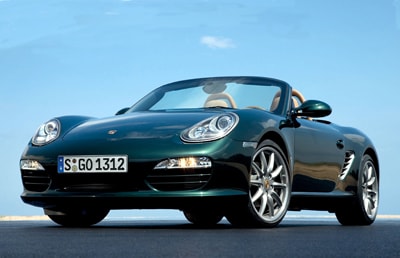 The Porsche Boxster is an enjoyable sports car, whether racing around a circuit, motoring top-down on a country road, or cruising around town. The engine note is invigorating, the handling crisp, the ride elastic, the brakes sublime and the interior ideal for driving. But it is how all this works in harmony that makes the Boxster such an entertaining car.
2011 Boxster and Boxster S come with more standard features than previously. Bluetooth and an MP3 interface are standard on 2011 Porsche Boxsters. New colors and new options packages are available for 2011, also.
The Porsche Boxster is perhaps the most practical mid-engine convertible sports car available today. The cabin has plenty of room and can accommodate tall individuals. The Boxster's levels of insulation, refinement and equipment match many sedans. There are two compact trunks, one up front and another in back, to carry a week's worth of groceries or luggage in soft-sided bags.
The Boxster lineup is so well-rounded it could come up on many shopping lists. Convertible luxury with a driver bias might pit the Boxster or Boxster S against a BMW Z4 or Audi TT, while the performance shopper may also have a Lotus Elise or Exige on the list.
For the sports car purist, there is the performance-oriented Boxster Spyder. The Boxster Spyder features a manual soft-top, the 320-horsepower engine from the Cayman S and several changes to reduce weight by a total of 176 pounds. As a performance model, the Spyder gets a firmer suspension. The Spyder delivers even better handling and a more engaging driving experience than what's found in the Boxster S, but, as is traditional with spyders, the Spyder lacks refinement.
The Boxster uses a 2.9-liter flat-6 with 255 horsepower and 214 pound-feet of torque. It comes with a choice of 6-speed manual transmission or 7-speed automated manual double-clutch gearbox (PDK, or Porsche Doppelkupplungsgetriebe).
The Boxster S features a 3.4-liter flat-6 rated at 310 horsepower and 266 pound-feet of torque with 6-speed manual or 7-speed PDK. Standard wheels are 8 and 9×18 alloys with P235/40ZR and P265/40ZR tires. The S can be distinguished by its red brake calipers, dual exhaust outlets, and light gray instrument backgrounds.
Virtually no one buys a Boxster for the base price, and the many options can drive the price up considerably. Great fun, though. We recommend springing for the PASM active suspension. Beyond that, we recommend trying to exercise your willpower.
The current Boxster is a second-generation version launched for 2005. Porsche does not make major changes very often, preferring to get the basics right from the start and continue fine tuning from there on. The Boxster benefitted from some heavy revisions for the 2009 model year, including new engines and a new transmission. The suspension was refined for 2010 to improve ride comfort and dynamic response.