2011 Porsche Cayman Introduction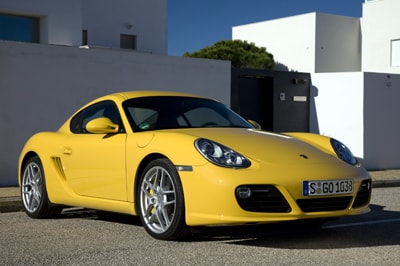 The Porsche Cayman is one of the world's best-looking sports cars and it's just as enjoyable to drive as it is to look at it.
Two versions are available, the Cayman and the Cayman S. The Cayman has a 265-horsepower 2.9-liter flat-6 engine, and the Cayman S features a 3.4-liter flat-6 with 320 horsepower and 273 pound-feet of torque. A 6-speed manual is standard on both, and Porsche's sophisticated, 7-speed double-clutch gearbox, called the PDK, is available as an option.
The 2011 Cayman comes with more standard features than last year's models. Bluetooth and an MP3 universal audio interface are standard on 2011 Porsche Cayman models, and new colors and options packages are available.
Among colors and interior trims alone there are thousands of combinations, so exclusivity with any one individual car is well within reach; Porsche's line of Exclusive options and paint hues to order merely expands the realm of possibilities. Those choices also potentially expand the cost by a huge amount, since you can get almost anything on a Cayman but doing so can as much as double the price.
The Cayman is related to the Boxster, and some will argue that the Cayman is merely a fixed-roof version of the Boxster, which is a convertible. We disagree. The Cayman has its own feel and character. It can serve as a luxury grand-touring car for two with heated and ventilated leather seats, Bose sound system, and navigation system. It can serve as a sports car with superb driving dynamics, wonderful sounds, and excellent driver involvement. It can serve as an entertaining commuter car with decent mileage, a view out, dual trunks and drive-everyday-versatility. It can serve as a weekend racer with adjustable suspension, advanced drivetrain, and racing-style brakes. Its two trunks offer significantly more cargo space than does the Boxster, making it the more practical choice. Plus, we love the looks. It's one of the prettiest cars sold today.
The Cayman was launched as a 2006 model and revised with new engines, transmissions and suspensions for 2009.