2013 BMW 5 Series Summary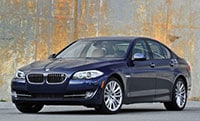 The BMW 5 Series offers different things with each model, so at least five final words are needed here. The four-cylinder 528i is the best value, with the best fuel mileage and handling, but it isn't such a great value compared to other mid-size luxury sedans. The inline-6 535i sweetens the pot with its engine. The V8 550i makes a claim to master of the domain. The ActiveHybrid 5 doesn't offer a compelling reason to buy. And the all-new M5 has to compete against the M6 and M3.
Sam Moses filed this report after driving the 5 Series models near Monterey, California.