2013 Honda Civic Driving Impressions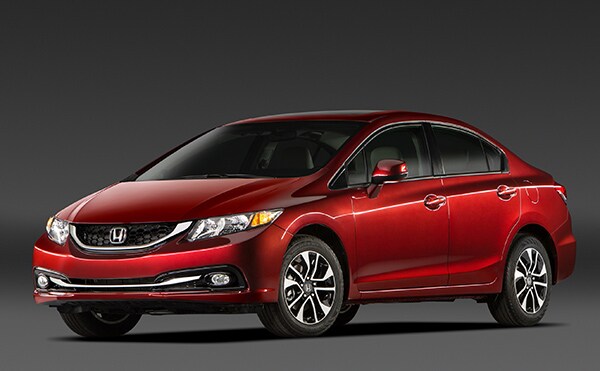 We found the standard Civic 1.8-liter i-VTEC engine with its 140 horsepower and 128 foot-pounds of torque to be adequate. Acceleration from 0 to 60 mph is 9.2 seconds, about average for the class, meaning slow; but it felt stronger than that, maybe because the engine was smooth and the cabin quiet. We ran 75 mph from Portland to Seattle, with the flow of faster traffic, and the power was always available. The 5-speed automatic transmission didn't struggle to keep up or kick down. Not only that, the ride was solid and comfortable.
There's an Econ mode that remaps the engine and transmission for fuel mileage over power. We switched it on and kept driving hard. We felt the difference but not so much it made us grumble. We still kept up with the other cars going 75. We watched the fuel mileage climb. We got 32.1 miles per gallon, on Regular. We were impressed.
The suspension has been reworked, too, and it shows. Thicker anti-roll bars front and rear, slightly quicker steering (7 percent), and firmer bushings. The front subframe body structure is stiffer as well, and these things definitely make a difference; flatter cornering, for one. These tweaks are all upside, as there are no negative consequences to the ride or anything else. The overall level of dynamic competence is hard to fault, absolutely and totally predictable, no surprises, no false moves.
Don't forget, we're talking about a Civic sedan, here. The sedan's primary goal is not to be fun to drive, so don't go comparing it to the sporty compacts like the Dodge Dart or Mazda3. If you want sporty, there's the Civic Si, and that one is hard to beat. It uses a high-revving 2.4-liter twin-cam four-cylinder making 201 horsepower and 170 foot-pounds of torque. We've had it on the track and the handling is marvelous. It's yahoo fun. Huge bang for the buck.
But back to the boring. There are three high-mileage versions of the Civic. The Civic HF uses a specially tuned version of the same 1.8-liter engine that achieves a government-rated 29/41 mpg, compared to 28/39 mpg for the Civic LX and EX.
The Civic GX runs on natural gas. Its 1.8-liter SOHC 16-valve four-cylinder rated at 110 horsepower and 106 foot-pounds of torque, significantly less power than that produced by the standard engine. Civic GX gets 27/38 mpg on the cheaper fuel, but be prepared to spend thousands if you want your own natural gas tank.
The Civic Hybrid pairs a 1.5-liter SOHC 16-valve four-cylinder engine rated at 110 hp and 127 lb-ft of torque with a 23-hp electric motor assist. Fuel economy is rated at 44/44 mpg.