2013 Toyota Tacoma Walk Around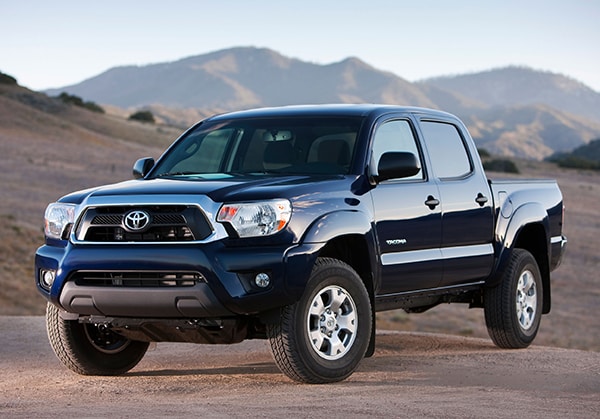 The Tacoma is instantly recognizable as a Toyota truck. Your first clue is the familiar, sturdy arch over the top and sides of the grille: brightly plated on SR5s, TRD Off-Roads, and Limiteds; body color on TRD Sports; and argent-painted on base models. A slightly protruding inner grille of black plastic echoes and emphasizes this Toy-truck hallmark. The trapezoidal shape leaves a small gap between grille and headlights, which is neatly bridged by the orange turn signals.
Tacoma manages to look tough and rugged without going over the top. The prominent lower air opening is framed at the top by a body-color extension of the main grille arch (again, the arch theme) and by a gray pseudo-skid plate below. It suggests the menacing mouth of a bottom-feeding fish. But in a good way. Fog light nacelles flair outward from the fish-mouth form.
Overall length of the Tacoma varies by body style: Regular Cabs are the shortest and most maneuverable, measuring 190.4 inches overall on a 109.6-inch wheelbase. Access Cab and Double Cab short-bed models have a 127.4-inch wheelbase and 208.1-inch overall length. Double Cab long-bed models are quite long at 221.3 inches overall on a 140.6-inch wheelbase. All models have six-foot beds except the Double Cab short-bed, which has a five-foot bed.
How to choose? Regular Cab models pack lots of cargo space in a relatively small package, good for maneuverability in the big city. Regular Cab 4WD models also have the best break-over angle due to their short length, and therefore offer the best capability off road. Access Cabs feature large dual rear auxiliary doors, not good for people but very good for gear. Double Cabs have long, conventionally hinged rear doors that open 80 degrees for ease of entry or loading gear. Double Cabs offer the people-carrying comfort of a sport-utility. Long-bed Double Cabs can carry more stuff but are unwieldy in tight places.
Tacoma comes with a composite inner bed, lighter than steel yet tougher and more durable. The bed features two-tier loading and an integrated deck rail utility system with four adjustable tie-down cleats. The rails are compatible with numerous Genuine Toyota Accessories, including cargo-bed cross bars, a fork-mount bike rack, and other useful items.
Interior
The Toyota Tacoma cabin has a familiar feel. Climate and audio controls are concentrated in a blacked-out panel (for contrast) in a slightly bulging center stack. High-contrast black trim appears on switch bezels and the inner doors as well.
The modern-looking steering wheel features a rectangular hub, dark-colored spokes at 3 and 9 o'clock, and brushed-metal-look spokes at 5 and 7. Where the bright spokes meet the hub they open up into square, black control pads for audio and other functions.
Behind the wheel is a functional three-pod instrument configuration. Like so many other brands, Toyota dabbled a few years ago with fashionably orange lighting, but the current theme uses red pointers against broad blue bands. It sure looks more high-tech; whether it's actually more readable is another matter.
An AM/FM Satellite Radio-capable head unit comes with a single-disc CD player and built-in Bluetooth for hands-free cellphone use.
V6-powered Double Cabs offer a more deluxe display audio system with all the hot digital candy, including navigation, Toyota Entune services, XM Satellite Radio (with 90-day trial subscription), HD Radio with iTunes tagging and text/e-mail-to-voice; all playing at premium quality through a JBL GreenEdge audio system with seven speakers. (GreenEdge technology helps reduce fuel consumption by lowering the electric power demand on the vehicle.)
The Toyota Entune system combines popular mobile applications and data services, with three years of complimentary access. Once a smart phone is connected to the vehicle using Bluetooth or a USB cable, Entune's features are operated using the vehicle's controls or, for some services, by voice recognition. Entune includes Bing and Pandora; plus real-time info including traffic, weather, fuel prices, sports and stocks. Also available are MovieTickets.com and OpenTable.
TRD models benefit from a water-resistant seat fabric, and all Access and Double Cabs are available with heavy-duty all-weather flooring, which we used to call rubber before carpeting became ubiquitous.
The lower dash and console are a lighter color than the main upper dash, brightening the interior; and trim rings surround the three clustered gauges. The driver's seat is height-adjustable, answering a complaint we've had in the past. Overall, the Tacoma provides the driver with a good driving position, and big mirrors afford a good view to the rear. Excellent grab handles on both A-pillars.
We found the TRD package's upgraded seats and interior nice, if costly. The sport bucket seats with driver lumbar support were made of a sturdy gray fabric and had excellent bolstering. An overhead console includes a compass and temperature gauge.
Cup holders are provided in the center console area. On models that don't have sport seats, the front passenger's seatback flips down to form a tray table or to make room for long objects, a handy feature. The switchgear is easy to operate, and everything is where you expect it to be. Big rotary knobs make it easy to adjust cabin temperature even with gloves on; the knobs are electronic, so they're easy to twist. The radio is fully integrated into the upper center stack and it's easy to operate. CDs sound good through the JBL speakers. Models with automatics come with a foot-operated parking brake, while the manual transmission models use a pull-out handbrake; a blast from the past that we could do without. However we were totally thrilled with the air conditioning, which blasts real cold real fast.
The rear seats in the Tacoma Double Cab are particularly comfortable for the class, offering good legroom and shoulder room and decent headroom. The seatback is angled back slightly, making it more comfortable than the overly upright rear seats in some other compact pickups. In a back-to-back comparison test, we found the back seats of the Tacoma more comfortable than those in the 2011-12 Nissan Frontier. (Nissan expects to launch a new Frontier soon, and that could change things.) A younger person should be okay to ride across the state in the back seat of a Tacoma Double Cab, and even adults won't complain too much on short trips. The rear windows even go all the way down.
The rear-seat area in the Double Cab is also good for carrying cargo. The seat is split 60/40. Flip the seat bottoms forward and fold the two sections down to form a flat platform for gear. It takes two hands to do this, and you first have to remove the headrests, which is a hassle, though Toyota has at least provided a place to store them. The backs of the seatbacks are hard, and form a sturdy cargo floor. It's not a bad spot for a dog, but still a big jump down. Our experience has been that none of the trucks in this class is particularly good for dogs.
Access Cab has rear seats, with the access coming on the passenger side only, but there isn't enough room for adults. The two kids we sentenced to the rear of our Access Cab are 5-feet and 5-feet, 5 inches tall, and they were okay back there for a short ride but would rather have ridden in the bed with the dog.